Wellness Care and Immunizations
Wellness care and immunizations at Pleasant Valley Pet Clinic- The best way to avoid illness and disease is to prevent it! The importance of annual wellness exams as well as internal parasite testing, heartworm and flea control, vaccination based on your pets individual needs and specialized blood tests for all life stages are all vital to maintaining your pets optimal health and longevity. We offer Puppy and Kitten packages, as well as a Senior Wellness package. Some medical conditions are chronic, requiring lifelong treatment and monitoring of the condition. We work closely with the pet owner to ensure the pet's optimal comfort and medical management for the condition.
For more information about our wellness packages please click on the respective link below.
Spay & Neuter
In males, this operation is indicated to prevent pregnancy, remove diseased or cancerous testicles, reduce male behavior such as urine marking, territorial aggression and roaming, and markedly decrease the risk of acquired diseases of the male reproductive system. The neuter operation essentially removes the possibility of testicular cancer and reduces the risk of prostatic enlargement. In females, This operation is indicated to avoid heat (estrus) cycles, prevent pregnancy, remove diseased or cancerous female reproductive organs and markedly decrease the risk of acquired diseases of the female reproductive system. The spay operation essentially removes the possibility of a severe infection of the uterus (pyometra). There is also evidence that spaying a dog at an early age markedly reduces the future risk of developing mammary (breast) cancer.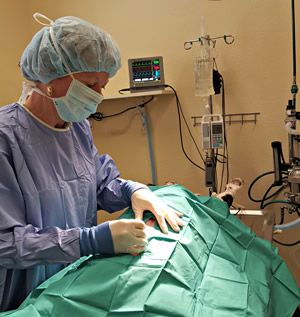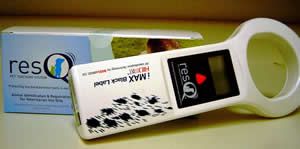 Microchipping
Microchip services Microchips have helped reunite thousands of pets with their families. We feel that this is a very important service for all pets! We offer one of the newer technology microchips, which also includes lifetime registration of the chip and free contact information updates. ResQ microchips are the best way to assure your pet gets home if they ever find themselves lost or in a shelter. If your pet is already microchipped, please be sure the registration is current by calling the microchip company to verify registration. Be sure to update your personal information with any changes whenever necessary.
Dental Care and Digital Dental Radiology
More than 8 out of 10 dogs and 7 out of 10 cats show signs or poor dental health by the age of 3. Regular professional cleaning is important to maintaining your pet's teeth and overall health. Periodontal disease can lead to other conditions such as heart disease, blood disease and can affect the kidneys and liver. We use modern and safe ultrasonic equipment to clean each tooth thoroughly - above and below the gum line. Dental technicians polish teeth to create a smooth, lustrous tooth surface more resistant to plaque buildup. Fluoride treatments help strengthen enamel and reduce tooth sensitivity. The use of digital dental X-rays helps us determine the condition of the tooth, roots and bone involvement with periodontal disease.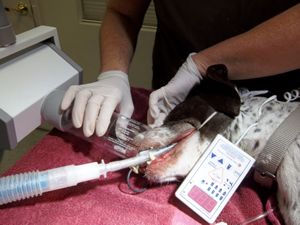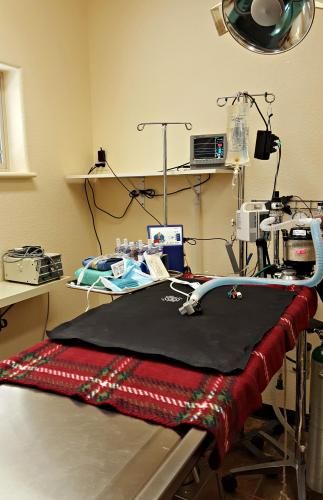 Specialty Surgery, Orthopedics and Consultations
Specialty surgery, orthopedics and consultations, Pleasant Valley Pet Clinic, Placerville; El Dorado county. We offer the best in modern veterinary medicine and surgery- That includes our duty to consult with and refer to a veterinary specialist. We are very fortunate to work with several board certified veterinary surgeons that come to our hospital, using our facilities and staff, to perform more specialized surgeries, such as orthopedics. These surgeons have chosen to advance their veterinary careers by specializing in surgery, and maintaining a level of education only approved by the American College of Veterinary Surgeons. We feel that it is our responsibility to give our patients the best care available, which is why we recommend and provide a board certified surgeon for some surgical procedures.
Surgery
Our veterinarians further their knowledge and education each year by attending conferences and seminars, therefore performing the most advanced surgical techniques. We use the most advanced technology in surgical monitoring equipment for our patients, and each surgical patient is carefully monitored by a trained veterinary technician. Patients are carefully screened for safety with pre anesthetic blood work, and anesthetics are specifically tailored to your pet. We are able perform routine and advanced surgical procedures. For specialized surgeries, such as orthopedics, we work with a board certified surgeon. Each patient receives a therapeutic laser treatment to promote healing at the surgical incision site and control post operative pain.
Digital Radiology
Radiology – or X-rays –is an important tool in veterinary (and human) medicine that helps our veterinarians evaluate muscular-skeletal, cardiovascular (cardiopulmonary), gastrointestinal, reproductive and urinary systems. Digital radiographs give us many more options than traditional film radiographs, as we are able to change the image by zooming in or out on a specific thing, and change the contrast of the image if needed. It is a much faster way to take radiographs, and reduces exposure to both the staff and our patients. We can even upload the images over the internet to get an opinion from a board certified radiologist.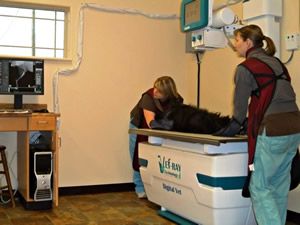 Ultrasound
This non-invasive, state-of-the-art technology uses sound waves to painlessly examine specific internal organs, primarily the heart, bladder and abdominal organs. Pregnancy exams are also available. We have ultrasound available on site.
Therapeutic Laser
Therapeutic Laser available at Pleasant Valley Pet Clinic, Placerville; El Dorado County- Therapeutic Laser has many uses in our practice, and we have seen phenomenal results from this technology. Our Class IV Therapy Laser allows faster healing after surgery or traumatic injury, eases pain and improves mobility which can decrease the need for pharmaceuticals and sometimes surgery. It provides geriatric animals relief from the aches and pains of arthritis and allows for more freedom and quality of life. We also use laser therapy for everyday disorders such as lick granulomas, and chronic ear infections. We are finding laser therapy to be a valuable tool in our practice.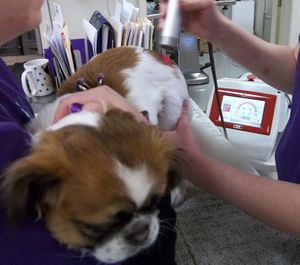 Emergency and Critical Care
Emergency and Critical care are available at Pleasant Valley Pet Clinic- Pleasant Valley Pet Clinic is equipped and staffed to handle most emergency and critical care situations. We are available for emergencies during regular business hours. If your pet had a life threatening emergency, please seek veterinary care immediately. On occasion, there is a need to transfer seriously injured or ill animals to another facility or veterinary specialist. Any referral, as well as all other options, is always discussed with the pet owner first. Our first concern is the health and safety of the pet.
Boarding (available to Pleasant Valley Pet Clinic clients only)​​​​​​​
Dog and Cat boarding: Our lodging accommodations are designed to make your best friend feel at home while you're away. We provide clean, comfortable and safe surroundings for all of our pet guests. As an extension of our veterinary hospital, the animals in our care receive the same love and attention as our hospital patients.